EFS Language Translator Team (Site Sponsor)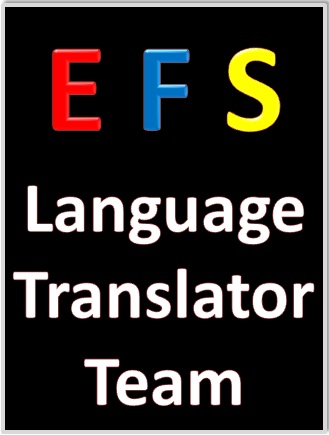 EFS Language Translator Team provides written translations from English & French to Spanish with 100% quality. Books, manuals, documents. We accept work from almost every country in the world. Discounted rates for NGO-nonprofit organizations. Starting as low as $0.05/w.

We are a Canadian team that proudly sponsors the How-to-Fight-Poverty.com project and invite you to support it as well!
We are passionate about what we do. Our work is 100% performed, reviewed and re-reviewed by human translators (not machines or software). Therefore we guarantee its linguistic accuracy.
You can rely on us! In addition to quality, we make sure that we meet our deadlines. Fast turn-around for us means that we commit to a certain date after a diligent planning that assures full quality of the deliverable.
Credibility and trustworthiness are our hallmarks.
We serve all sorts of subjects: Technical documents, legal, scientific, historical and so on, and manuals & books of any topic.
Let us know about your need by filling the below form. We will then get back to you with the quotation and turnaround time (if you want to make a payment for a previously quoted work, please click here)
Thank you for letting us satisfying your translation needs!

---

A note on How-to-Fight-Poverty.com

You may wonder why a team like ours is supporting the How-to-Fight-Poverty.com project.
It is very simple. We believe as they do that getting rid of World Poverty is a moral imperative. When we learned about the main culprits of Poverty as explained in the site, Corruption, Lack of Solidarity and the Money as Debt system, we said to ourselves that we needed to contribute in some way.
Sponsorship was the more expedite one for us.
In line with the principles to curb Poverty, we make make sure that our work is 100% ethical and that we support as much as we can the work of NGOs devoted to fight the root causes.
It is not rhetorical. This humble language translator team hopes that you too could join How-to-Fight-Poverty.com in the cause of curbing poverty in the World!

---


Translation Request Form
---

Your Translation Payment


Please proceed to your payment (do not forget to include your Translation Reference #, located on the quotation email you received from us)
---
How-to-Fight-Poverty.com Sponsorship Policy
From EFS Language Translator Team to Home Page